O.K. Here is my binder, finally. Below is the cover of my binder, I named it the Blessing My Home binder. I also put a little scripture on the bottom of the cover.
This is the side of my binder, it is a picture of a victorian era lady and gentleman walking together.
And.... here is the back of my binder. There are two pictures, a lady with her son, and a lady with her daughter. There are inspirational scriptures on the back of my binder also.
This is the first page in my binder, it is an overview of all the things to be done, cleaned, picked up, cooked, etc. for the day. I usually write this out the night before, look through my journal and fill out a quick summary of things to be done. All of the pages in my binder are in page protectors, or plastic sleaves. That away I can mark, check off, line through items that are listed with a dry erase marker, and them just wipe them clean when I need to. This also saves computer ink and paper.
The second part of my binder, I have Candy's Rules for the Wife at Home, my Master schedule, then my Morning, Afternoon, and Night Routines, for the days that you just seem to be getting far behind.
The second part of my binder, I have my Weekday Routines.
Example... Monday clean kitchen and wash pants and Daniels clothes. Tuesday clean bedrooms and wash whites and little Daniels clothes. Wednesday clean livingroom and wash uniforms and my clothes. Thursday clean bathrooms and wash colors and Destiny's clothes. Friday speed clean the whole house, and wash towels and Angelina's clothes.
Then there is my Monthly to do list, or projects as some call it. It says Master To-Do list, but that's the only print out I could find that I could use. lol. Mine looks like this.
1st-7th of the month I will spot clean the walls in the house
8th-14th I will declutter bedrooms
15th-21st I will declutter kitchen
22nd-28th I will declutter livingroom
29th I will steam clean carpet and furniture
30th I will declutter laundry room
Then I have my Chrisis/Quick clean lists. Here, I have Candy's Emergency Quick Clean in Nine SImple Steps. I also have FlyLady's Chrisis Cleaning, and a detailed 15 minute cleanup list for each room in my home.
Next I have a detailed cleaning section. Which is just that. There are the rooms in my home, with the day of the week I clean that room at the top in order Moday-Friday. There is a detailed cleaning list for each room, specific to my home.
Monday's looks like this. Monday/ Kitchen. Start at doorway, working around the room from top to bottom.
Clean off little freezer
wipe down plant table
take out ALL trash
wipe down counter
clean stove
clean counter
clean sink
clear table/wipe down
clean counter
clean icebox
clean microwave
clean shelves
sweep
mop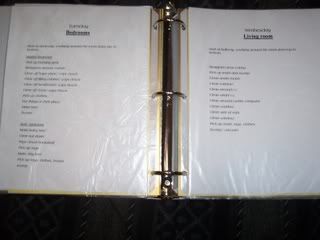 Then there is my Menu section. I have a square for each day of the week as my first page, large enough to write in them what will be cooked each day. Then I have my shopping list. On the shopping list is everything I usually keep for cooking in my home, next to each item is a little check box. Whenever I need to pick up a certain item next time I go to the store all I need to do is put a mark next to the item in the list and I won't forget about it.
Now we come to the Kids' Chores section. The first page there is Candy's Rules for the Mother at Home in Training Her Children. After that there is a page for each of my children. On their page is a list of daily routines as well as weekly routines.
Second to last (as of right now) We have our own "phone book". We have a page for important numbers, then we have a "family yellow page" followed by a Restaurant and take out directory... maybe next time me and husband want to go and eat out, we can look on here and see that NOTHING is opened on a Sunday night. lol
Then... I have my recipe section. No pictures of that though. I will be posting later on pictures of my homemade bread, and breadsticks. Other homemade meals as I cook them, and remember to take pictures. I have a few posted now you can click on the links to be taken straight there if you want to check them out.
homemade bread
,
homemade bread rolls & Sweet Potato Casserolle
.
Now, if you need some guidance, or more idea's for your binder, you can go to Candy's site at
www.keepingthehome.com
. She also has an e-book for sale with step by step instructions on how to create your binder. Alot of my binder pages came from her e-book. The rest of them I either made myself on my computer, or I printed off of
www.organizedhome.com
. You can find lots of neat ideas on there. Try it, and see how much it helps you out every day.
I HOPE YOU ENJOYED!!!