I wanted to share this simple yet VERY effective way of doing your very own pants alterations (just discovered this myself.) Comes in handy if you have children who receive hand me downs, you receive hand me downs yourself, or have recently lost weight (GO YOU!)
In my case, I found some pants for sale at $5.00 a pair, so I bought 4. I am a young 27 year old… but after having four children, my body doesn't cooperate as such :) I would love to wear those cute, tight junior pants with their odd number sizes… but they sit so low on my now spread hips its ridiculous! So I humbly move on the misses even number sizes… this time to find that very sale! Now, I am not a large woman.. let's just say I weigh below 130 and am 5'3". Because my hips are wide I have two options… either buy pants that fit me well in my legs but are toooo tight in the hip/waist area, or buy pants that fit well in the hip/waist area but are super baggy in the butt/legs… which was the case this time around.
Now, when I tried the pants on at the store, they did seem a little baggy in the leg/backside area, but nothing I could not live with since they fit so well in my waist/hip area. Little did I know that an hour into wearing these jeans, the fabric would almost swell and expand well past their original size. Once washed and dried they would appear to shrink back only to expand again the next time they were worn. So my savings on these 4 $5.00 pair of jeans wound up being a wasted $20.00 because they were all used as back up jeans when nothing else was clean.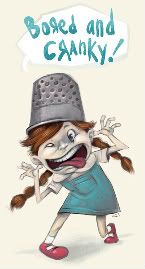 I came across a site yesterday, (click on the photo with the crazy girl) and thought.. hey! I can do this.. it's not like I can mess the jeans up to make me want to wear them any less than I already do right?! So last night I tried it. I gathered up all four of those jeans, turned them all inside out… created an assembly line if you will… and sewed away. It took maybe 20 minutes to complete all four pairs.
Now for the drum roll………….. I tried them on and it was like the heavens opened up and the Angels began to sing… AAAAOoooohhhhhhhHHMMMmmmm! They fit like a GLOVE!!!
I now have visions of going to every sales wrack I see and buying up all the jeans no matter the size because I know I now have the power to alter then to MY FIT!
My poor poor children are now subject to even more hand me downs : )
Regrettably, I do not have before and after photos.. but the lovely young lady in the tutorial link provided above has!
On a side note... I created this Awesome pillow and onesie for a wonderful little boy who is having his room re-decorated in Star Wars from Pottery Barn!
Cute Tie Shirt for Regers lil brother!
Regers Star War Pillow Front
Regers Star War Pillow Side.
Regers Star War Pillow Back!
Thank You All for viewing!